Getting carried away with budget
It's common to see buyers get caught up in the lifestyle that comes along with ocean side living and they often will end up using the their entire approved amount of mortgage and purchasing more condo than they can comfortably afford.
First time buyers watch out for this as it's not just the cost of the mortgage you have to watch out for. There are also the inevitable repairs with many of the older buildings on Martin St or Prospect in White Rock, BC and pretty much any oceanside property.
Oceanside properties are exposed to a constant bombardment of the elements like harsh salty sea air and hurricane-force winds that properties in the mainland are not required to withstand.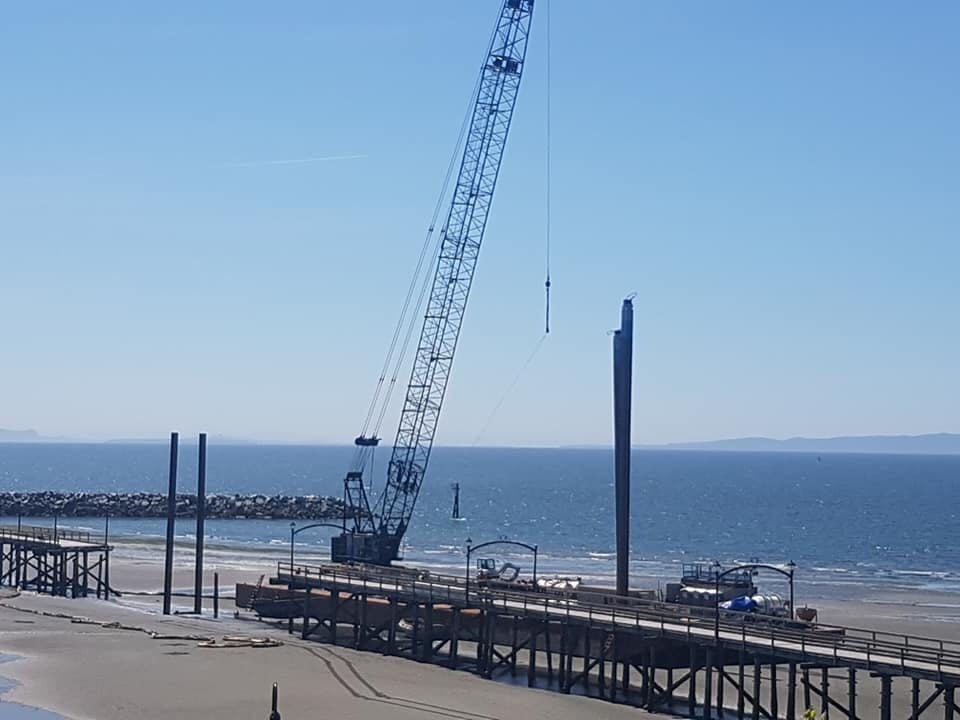 Just look at what happened to the White Rock Pier recently with a wind storm. Just imagine all the homes which were damaged as well!
I highly advise all my buyers/clients to look ahead and prepare financial outlooks for years 1, 5, and 10 of owning the ocean view condo in White Rock and even longer because you likely will not want to leave.
Mortgage and Financing Professionals
Austin Spencer: The Mortgage Muscle (604) 726-7084
Henry Li: (Mandarin & Cantonese) Financing Specialist (604) 762-2122
Ivan Tsai: (B & C Lender) Mortgage Specialist (604) 889-0520
Dennis Obcena: (604) 313 9333
Nosey neighbours, views and your privacy
It's easy to fall in love with beautiful beachside condos, their views and forget about everything else.
Please people before you sign on that dotted line to buy that mint penthouse condo for sale in White Rock make sure you look past the stunning views and fully renovated condo and think about your privacy! Just like other home purchases you should find out who your neighbours are and most importantly the zoning bylaws of surrounding lots. Be sure to Contact Ryan and get his inside knowledge of the development potential of White Rock Real Estate. Your beautiful ocean view that you get to enjoy fully naked with your morning coffee could turn into a tower blocking that view and a million people looking into your condo at all hours of the day.
Buying too old and not planning out assessment costs
Depreciation report, depreciation report, depreciation report, depreciation report. 
Did I mention the depreciation report? If you don't get one you better know something about the building either from insider knowledge within the strata or you better have some kind of idea of the buildings envelope and the work it will entail. Don't buy into a shot in the dark. Make an educated smart decision when you purchase. Get informed and make sure you can afford the work that will need to be done in the future, especially with older buildings.
Not using a local home inspector
You can't go wrong by using a local, licensed home inspector. I say local because when they have visited the buildings in the area and have done recent inspections they find things that may not be known to an out of town inspector. Whether that information comes from word of mouth or just being that they have hands on experience, that kind of knowledge is not something you can put into a dollar value. But, if you needed to know an approximate dollar figure local inspectors usually charge anywhere between $450-$1000 depending on the size and age of the condo building you are inspecting.
Beach homes are subject to a very corrosive environment that presents unique issues. For example, a coastal environment can completely break down galvanized joist hangers in decks and flashing on buildings Inspectors from Vancouver or out of the immediate area might not necessarily be looking for these issues.
Home Inspectors
Not only is it free to work with me as your agent but I will provide you with representation upon purchase. Im from the area. I was a volunteer firefighter with White Rock Fire Department for 8 years or so and I have built a couple homes in White Rock. I have helped countless buyers and sellers move in and out of White Rock. White Rock is my favourite place to work as I see the amazing potential in the area. Close to the border for gas, groceries, dairy and shopping. Its a direct drive into the air port. I has an abundance of entertainment and community celebrations. I could go on and on. Give me a call and I will show you why White Rock BC Canada is one of the best places to be on Earth!