SHOW DATES & HOURS
Location: 1055 Canada Pl, Vancouver, BC V6C 0C3
Tuesday, March 19

4:00 pm – 9:30 pm

Wednesday, March 20

10:00 am – 9:30 pm

Thursday, March 21

10:00 am – 9:30 pm

Friday, March 22

10:00 am – 9:30 pm

Saturday, March 23

10:00 am – 9:30 pm

Sunday, March 24

10:00 am – 6:00 pm
DEBUTS AND CONCEPTS

SUPERCAR – FELINO cB7R
A racing driver using experience and how he felt driving to design The FELINO cB7R.  It is not like any other supercars for this reason. The engineers at Felino of course added some technical portion to unequivocally produce raw natural power to boot. With alterations to make this cat street legal it is no doubt going to be one of the top viewed cars at the Vancouver Car Show.  Like a cat in the wild.
Being it was designed by a race car driver the car is made for the person in the drivers seat. It even comes with moldable seat option for the driver.
There are only 10 units of the cB7R worldwide. In addition to a very limited production, the customization program brought to you by Felino ensures every buyer a near to absolute exclusivity. Come down to the Vancouver International Auto Show to check out this one of a kind beauty.

The Hoonicorn
The car is a 1965 Hoonicorn Ford Mustang RTR but with some slight mod's. By slight we mean… 410 cubic inch Ford V8 engine with Garrett Twin Turbos, a Switzer Dynamics Intake Manifold and a Motec M150 ECU. It's basically a death machine. You might break the speed of light in this bad boy. There's likely no surprise that you will see a roll cage with a tubular chassis. Oh and its all wheel drive! The body panels are carbon fiber and the side fender-flares give the car a wider stance, which translates to better handling at high speeds. This beast is not to be overlooked at the car show so come check it out!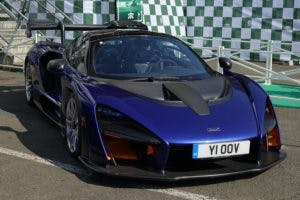 SUPERCAR – MCLAREN SENNA
The McLaren Senna is Mclaren's greatest attempt at creating the most intimate connection between car and driver. It is the most track-focused road car McLaren has ever built. Currently the Senna will set the fastest lap times of any McLaren made so far. This body and motor has been designed with no cost dispared. It might be built to look like it fits the road but it most certainly doesn't belong to it. It's true calling is for the track. If you want to have an amazingly exhilarating driving experience the super car Mclaren Senna is the car for you.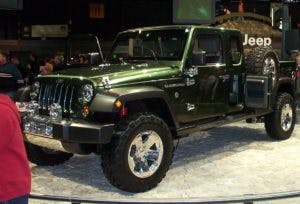 2020 Jeep Gladiator
The Gladiator is basically a Wrangler with a five-foot bed. The truck/jeep rides on a custom body-on-frame that's longer than the SUVs giving it a more versatile off-road experience for the driver. The diesel mill which is available in the Dodge Ram 1500, will be offered in the Jeep Gladiator in 2020. Offering 11.1″ of ground clearance, 30″ of water fording ability, an 84:1 crawl ratio, and lockable Dana 44 axles, front and rear. Not to mention the Gladiator's 1,600 pound payload capacity. A must see if you plan to visit the Vancouver Auto Show 2019.