Canada Strong   Record-Low Unemployment
The Canadian economy experienced a modest growth of a healthy 3% in 2017 and of which is the highest growth since 2011. Keep in mind there showed amidst strong growth in not just consumption and residential investment but investment in Commercial/ Business Investment, according to the Bank of Canada.
"Consumption and residential investment have been stronger than anticipated, reflecting strong employment growth," said Bank of Canada. "Business investment has been increasing at a solid pace, and investment intentions remain positive."

The economy is expected to grow by 2.2% this year and by another 1.9% in 2019, based on central bank estimates.
During the 2016/17 Fiscal year, the government ran a deficit of CA$17.8 billion (US$14.13 billion), sharply up from a deficit of just CA$1 billion (US$794 million) a year earlier.
There is expectation for the deficit to increase further to CA$19.9 billion (US$15.8 billion) in the 2017-18 fiscal year.
The country's annual inflation rate stood at 1.9% in December 2017, from 2.1% in November, 1.4% in October and 1.6% in September 2017. The Bank of Canada has expectations of inflation to average at 2% in 2018 and 2.1% in 2019.
In January 2018, the nationwide unemployment rates fell to 6.2%, down from last year's 7.2%, according to Statistics Canada. British Columbia had the lowest jobless rate of 5.2%, followed by Ontario (5.7%), Quebec (6%), Manitoba (6%), and Saskatchewan (6%).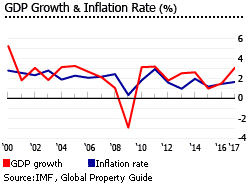 These next numbers are incredible. You can see how much this country is growing. In an effort to fill the gap left by retiring baby boomers, immigration regulations in 2015 were adjusted. In conclusion, Canada had 321,000 immigrants in the 2015-16 fiscal year, the largest number since 1910, according to Statistics Canada. In addition 300,000 immigrants were admitted to Canada in the following year.
A plan, most commonly referred to "Growing Canada's Economic Future", aims to increase the number of new immigrants to 310,000 in 2018, 330,000 in 2019, and 340,000 in 2020.
"This historic multi-year immigration levels plan will benefit all Canadians because immigrants will contribute their talents to support our economic growth and innovation, helping to keep our country at the forefront of the global economy," said Hussen.
The immigrants are expected to reignite the economy – and boost the housing market further.